{rdxsg folder=»images/stories/vitenfabrikken/bildegalleri/butikken» thumbs_position=»bottom» midsize_width=»640″ midsize_height=»270″ thumbs_width=»640px» class=»time-w»}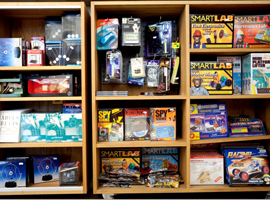 The Science Store
Our store has exciting gifts for young and old, that relate to experiments in the exhibition, and that encourage activity and curiosity.
Here you can find everything from books, building sets with different subjects, outside and inside toys, games and other fun curiosities. In the case that we're lacking what you're looking for, we can perhaps find it for you. Ask us or send and email to vitenfabrikken@jaermuseet.no if you are looking for something that we do not have.
The store is open during Vitenfabrikkens opening hours, and you don't need to pay the entrance fee to visit the store.
Café «Brain Food»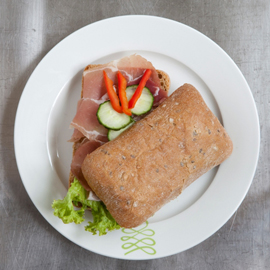 Café «Brain Food» gives children and adults the perfect refill for an active day. Our chefs use quality commodities and they serve simple and good food. Fresh coffee, a good assortment of beverages, homemade cakes and fresh bread really sets the tone for the experience that is Vitenfabrikken.
You don't have to buy an entrance ticket to visit our café, situated on the first floor. Our café is child friendly and has plenty of room for strollers. We are glad to help when baby food needs to be heated and we have access to a baby changing room. In summer you can enjoy the nice weather on our terrace outside.
Café «Brain Food» also delivers conference menus and menus for events at Vitenfabrikken. We have a close cooperation with the restaurant «Mathuset Charles & De». It is possible to order catering with tapas and other menus from them. Should there be any other wishes they can also create special menus and prices fit for your group. Contact our business host Ingunn Aase at ina@jaermuseet.no for more information or questions about our menu packages etc.
Opening hours, Café «Brain Food»
Monday closed
Tuesday – Friday 10:00 – 15:00
Saturday 11:00 – 15:30
Sunday and Holidays 12:00 – 16:30
The cafe can be held open outside of the normal opening hours, as with big event or group orders.