This is a compressed version of the website published for the NPA-conference in 2019:
Vitenfabrikken "the Science Factory" in Sandnes, Norway, and the Nordic Planetarium Association (NPA) would like to welcome mediators and educators in astronomy and science, planetarium staff, techinicians, vendors, science centres, universities, observatories and students to the annual NPA conference 6th – 8th September 2019.
Program
We have an exciting program for the conference, which we will regularly update.
Please download program here
Last updated 26 august.
Other details:
Saturday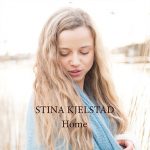 The dinner Saturday night will be at Tungenes lighthouse. There will be transportation from Vitenfabrikken and back to Sandnes. Please let us know if you are not staying in a hotel in Sandnes. There is a short walk from the parking to the lighthouse, so high heels are not recommended. We also recommend you wear a jacket, weather condition here can be quite windy. Stina Kjelstad will be performing for us this evening.
Sunday
We can organize for your luggage to be transported from Vitenfabrikken to Stavanger so that you can catch the flight bus directly from Stavanger after the city tour. Please bring the luggage to Vitenfabrikken in the morning. The excursion will finish no later than 5pm, possibly a bit earlier.
Excursions
There are several excursions taking place both before and after the conference. Payment on arrival at Vitenfabrikken. We take Mastercard and Visa, not Amex.
Thursday:
Option 1: Hike to Pulpit Rock.
Latest update:
This is a group excursion arranged by Vitenfabrikken. Fredrik Kirkemo, from the organizing committee will guide the tour. We meet at Vitenfabrikken at 09:00 and are transported by private cars. You should bring hiking boots and comfortable and warm clothes, preferably windproof. The walk goes through varied terrain and should take approximately 2 hours each way. Lunch boxes will be brought along from Vitenfabrikken. We estimate that the duration for the entire trip is about 7 hours.Pulpit Rock is one of Rogaland county's most visited attractions, and one of the natural wonders of Norway, making it a popular photo subject. Preikestolen has been named one of the world's most spectacular viewing points by both CNN Go and Lonely Planet. It rises 604 metres above the Lysefjord. Did you know that Pulpit Rock is the location for a dramatic scene in the last Mission: Impossible film Fallout?The mountain plateau of about 25 x 25 metres was most probably shaped by the expansion of ice some 10 000 years ago. Water that froze in the crevices in the mountain broke loose large edged blocks of stone that the ice glacier brought along on its course. In the old days, the name of the plateau was Hyvlatånnå (planed tooth), and was already then well known as a landmark for fjord travellers in the Lysefjord. It was not until around 1900, that the first tourist travelled to the top and Preikestolen as a touristic destination was discovered.
The hike takes around four hours return trip and is around six kilometres. The hike starts from the parking (parking fee applies) by the Pulpit Rock Mountain Lodge. Located here is a service facility with toilets. The hike consists of slightly hilly terrain with a difference of altitude of 350 metres. The prime attraction on the hike you obtain on top of the plateau with a mesmerising view of the outstanding Lysefjord. Additionally, there are nice spots to take a dip as well as enjoyable resting areas along the path.Remember good footwear, preferably mountain shoes, warm clothing, food and drinks. Should the weather indicate difficult conditions, please use walking sticks/ski poles on the hike. A general good physical fitness is necessary.
Fun fact about Pulpit Rock: The Pulpit Rock plateau almost looks like it has been carved out with a knife. The angular pattern of the fissure is evidently visible when looking at the plateau from above. You can easily imagine that large blocks next to Pulpit Rock have plummeted down into the Lysefjord. Along the entire fjord, you will find so-called depressurisation gaps, and a textbook example of this is the crevice in Pulpit Rock. When the glacier melted away some 10 000 years ago, the pressure from the ice disappeared and the mountain cracked open.
Price: 600 NOK pr pers.
This a quick version of the hike: https://www.aftenbladet.no/lokalt/i/kaV8eB/Se-hele-turen-til-Preikestolen-pa-12-minutter?jwsource=cl
Option 2: Fjordcruise Lysefjorden and Pulpit Rock
Latest update:
Fjord Cruise: In general, tickets are in high demand. Last chance to register for this tour, is 26th August. Departure point from Strandkaien, in Stavanger. We will return with details regarding attendance to those who have signed up for this tour next week when the registration has expired. Your guide, Sven Gundersen, will start the tour at Vitenfabrikken at 12:30 pm, and travel to Stavanger by train. If you want to join the tour in Stavanger, then be at the Strandkaien at the latest 13:45 pm. The boat leaves at 14:00 pm. Sven Gundersen has tickets for the group. See the maps below to find out where Strandkaien is. The tour is a 3 hour round trip, with guiding on board.
If you do not fancy a hike then we have another option to feast your eyes on the majestic Pulpit Rock, which seems to reach into the sky above incredible Lysefjord. This exciting fjord cruise creates memories for life. We also take you to Vagabond's Cave and tell you the legend of this mysterious opening in the mountain. We carefully nudge the boat's bow up the Hengjane Falls and offer you a taste of pure mountain water. Enjoy the striking scenery from the comfort of our boat's sheltered cabin, with panoramic windows all around, or venture out on the spacious sundeck. The kiosk onboard offers a variety of refreshments, including beer and wine.
Price: 500 pr pers.
Watch Region Stavangers film of the area and wonderful places to visit!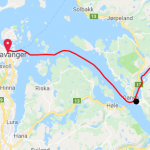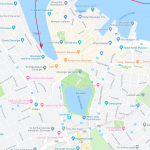 Sunday:
Norwegian Petroleum museum and Stavanger historic town center.
Latest update:
We can organize for your luggage to be transported from Vitenfabrikken to Stavanger so that you can catch the flight bus directly from Stavanger after the city tour. Please bring the luggage to Vitenfabrikken in the morning. The excursion will finish no later than 5pm, possibly a bit earlier.
Norwegian Petroleum museum is situated in the Stavanger harbour basin close to the historic town center. In contrast to the picturesque wooden houses, the museum is a monumental, organic structure.
The main building is like a huge block of stone, while the cylinders in the sea are like ships or platforms at the dock. The architectural designs of both the building and exhibitions are primarily scenographic readings of oil installations in the North Sea and the geology of oil.
The stone clad main building is an interpretation of the Norwegian bedrock where the forces of nature, through hundreds of millions of years, have passed sediment to the North Sea, creating the basis for oil. The exhibition hall resembles a space in the landscape facing the sea where the black slate floors allude to the petrified slate and limestone sediment on the bottom of the North Sea, where raw oil is found in similar types of stone.
Three cylindrical platforms stand in the sea. From the exhibition hall and these cylinders there is a stunning view towards the Stavanger fjord, a wharf for oil rigs, and further towards the North Sea itself. Inland views are of the massive Ryfylke Mountains.
Speakers
"Reaching out to new full dome connections"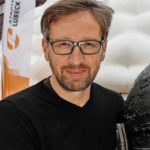 Talk by Ralph Heinsohn, Designer, Curator & Producer of Immersive Media, Hamburg, Germany and Aase Roland Jacobsen, Planetarium Curator, the Science Museums, Aarhus University, Denmark.
The Nordishe Filmtage in Lübeck has just celebrated its 60th anniversary with huge success showing Nordic films of great variety. A couple of years ago a dome was successfully established and since then Nordic full dome productions have been shown at the film festival in collaboration with the Nordic Planetarium Association. In only 3 years, the dome has become a very visible part of the festival, and in this talk, we will tell you about the many interesting experiences with VR in the dome, Art, underwater films and technical setups. Furthermore, last year a very exciting dig into the history revealed an analogue star projector that was produced in Lübeck, but located in Denmark. We will also like to discuss future possibilities of collaboration of the film festival and NPA.
"A visit from Space"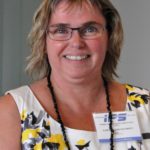 Talk by Aase Roland Jacobsen, Planetarium Curator, the Science Museums, Aarhus University , Denmark.
The Steno Museum in Aarhus, Denmark has had a rare visit from space: A Soyuz Capsule and actually the one that brought the Danish astronaut Andreas Mogensen up to ISS in 2015. The Capsule has been on display from November 2018 until May 2019, when it was returned to The Technical Museum in Elsinore. Several thousand people have seen it, and we have made many special activities in association with the capsule: Weekend talks about life on ISS and supplement to the astronomy education programs in the planetarium. Most exiting was the visit by Andreas Mogensen, where he was reunited with his capsule for a day, and young people were invited to meet him and ask him questions.
This talk will give inspiration to astronomy related activities/events and how to motivate especially young people to an interest in astronomy by using a unique piece of space technology namely the Capsule that has returned from space.
"What in all cosmos!"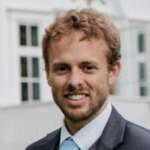 Talk by Ben David Normann, PhD candidate. Faculty of Science and Technology – Department of Mathematics and Physics, University of Stavanger, Norway.
Winner of Researcher Grand Prix 2018.
I am currently undertaking Ph.D. studies at the university of Stavanger. The Universe in which we live is rather special. Why, for instance, does it look so similar in all directions where you point your telescope? As far as the Einstein equations go, the Universe "didn't have to" look like that! What we do in Stavanger is therefore to relieve the theory of assumptions such as the cosmological principle. Can we show that the Universe must have developed into the present special state no matter where and how it started out? Tough job…! That's what we are working on, anyway. I also enjoy quite a bit of traveling around talking about my research and I look forward to meet you all in Sandnes. I surely have a lot to learn, as an embarrassing fact about myself is that despite of being a cosmologist, I have actually never had the privilege to see the night sky through a telescope!
"Good morning Sandnes"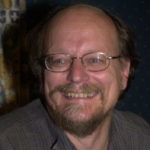 Talk by Per Amund Amundsen, Professer of Physics. Faculty of Science and Technology – Department of Mathematics and Physics, University of Stavanger, Norway.
In Sandnes you can find the Planet Path, a 1:1 billion scale of our solar system. Along the path you see the sun and the other planets of our universe, also including Pluto. The planets are placed along the Storåna river, while Pluto is found near Stokkelandsvannet lake.
Presentation of Harestua Solar Observatories project, and collection of meteors.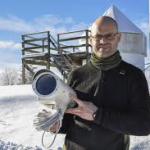 Talk by Vegard L. Rekaa
Vegard Rekaa is an astronomer and does astronomy education for high schools, students and adults. He has long experience in teaching and a doctorate in plasma, astro and space physics from the University of Oslo. Vegard has worked at the observatory since 2006. The Harestua Solar Observatory is Northern Europe's largest astronomical facility and was a world-leading solar research center in the 50s, 60s and 70s. From the 80's, the Solo Observatory has served as a science and information center for astronomy and science. The solar observatory had its official opening on May 31, 1954, directly followed by a total solar eclipse that was visible from, among other places, Harestua, on 30 June of the same year.
"Worldwide Telescope in planetariums"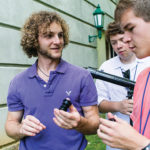 Talk by David Weigel, Planetarium director at U.S. Space and Rocket Center
The purpose of the American Astronomical Society's WorldWide Telescope project is to enable the seamless visualization and sharing of scientific data and stories from major telescopes, observatories, and institutions among students and researchers, through science museums and full-dome immersive planetariums, and in scholarly publications.
"Mission to Mars" an immersive multimedia and VR roleplay, located on Andøya Space Center.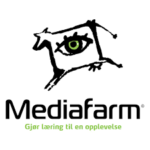 Talk by Morten Tvedten and Frode Søreide.
Mediafarm's goal is to be a long-term learning partner through its vision: "To make learning an experience!" By the unique combination of educational. technological and creative skills, Mediafarm has managed to stay up front – and is regarded to be a leading company within its sector. Mediafarm has been in the learning and experience business, since 1996. Morten Tvedten is formally trained as a multimedia developer and animation designer, and has been involved in most of Mediafarm's larger installations and visitor centres. Frode Søreide is one of the founders of Mediafarm and has been involved in most of the company's larger projects.
"Celestial Sami sky"

Performance by Ante Mikkel Gaup and Anne Bruvold.
Gaup is part of the North Sami joik tradition of Indre Troms. He has worked as an entertainer and educator for many years. He performs as a solo artist or with members of his family.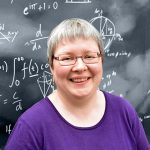 Anne Bruvold is a science advisor at Nordnorsk science center.
"Five examples of how planetarians collaborate to achieve low (or zero) cost show production"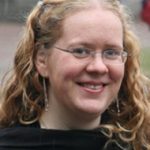 Talk by Anna S. Arnadottir, Planetarium Director from Lund University.
Fulldome Content for NPA 2019
Projection system In the Vitenfabrikken Planetarium a brand new high-contrast two-channel ZEISS powerdome® VELVET system has been installed beside a ZEISS SKYMASTER ZKP 4 opto-mechanical projector, that provides an unobstructed fulldome image on an 8 meter dome. Light sources are based on RGB solid-state illumination (LED) with a respective wide color gamut. The fulldome system offers 3k resolution and pleasant brightness. Blending between the two channels is achieved electronically without mechanical masks. Content delivery Content to be displayed at the NPA meeting shall be delivered to: Vitenfabrikken c/o Mr. Sven Gundersen, Storgata 28, 4307 Sandnes, Norway
Data carrier: hard disk drive or thumb drive (Windows) Data download: accepted up approx. 20 GB size (please use losless compressions like *.zip, *rar).
Data formats
To secure video quality we recommend to provide dome masters, which will be encoded with our special HEVC fulldome video codec. Alternatively mp4 video files encoded with H264 or H265 codec can be displayed without guarantee. Video quality and smooth playback depend on a variety of factors, and therefore require some tests.
Dome master: up to 4k, 8bit or 10bit RGB, preferable PNG (8 bit or 16 bit), alternatively JPG (8bit);
Audio: separate files, stereo wav, mp3, 5.1 surround mixed ac3 (in exceptions: single wav 5.1 surround) Standard video: up to 1920 x 1080p (HDTV), mp4 or mpeg.
Video: mp4 container: 3k or 4k, 8bit RGB, H264 or H265, medium bit rate. Deadline: August 5th, 2019 latest.
Sponsors